ProSim Aviation Research
DEDICATED TO CREATING SOFTWARE SOLUTIONS FOR FLIGHT SIMULATORS
Now available:
The ProSimA322 FMS Trainer
The FMS trainer is a tool that focusses primarily on the use of the FCU and MCDU in the operation of the A322. It is a standalone, Microsoft Windows based, free play tool that can be used to simulate a flight from startup, takeoff to landing.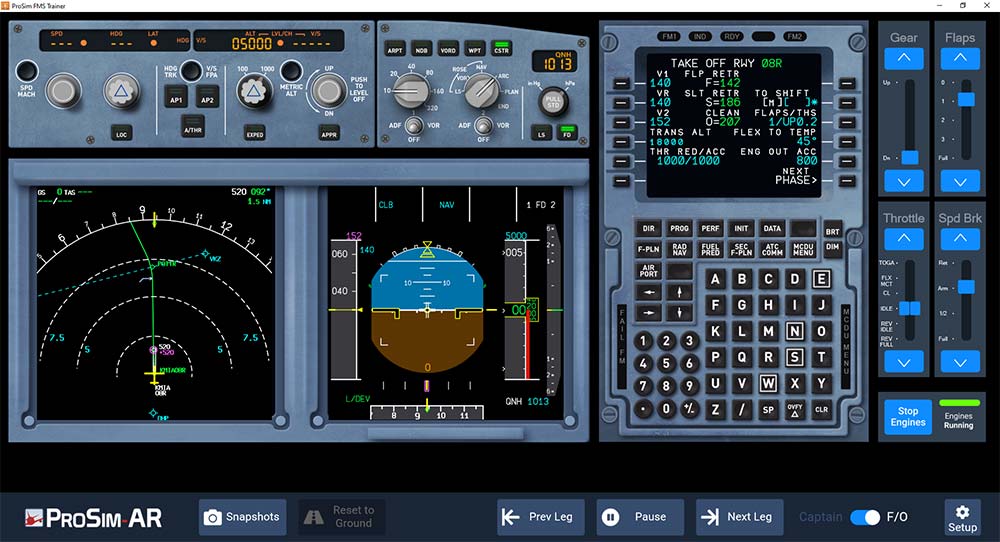 Sectors
ProSim-AR offers the solution for a variety of sectors within flight simulation. Our customers range from airlines and flight schools to private enthusiasts. With ProSim you can benefit from our high quality purpose developed software.
Generic training software
Professional generic type resembling solutions for commercial jet training.
Type specific training software
Professional solutions for Boeing 737 and Airbus A320 type training.
Products
In today's world of flight simulators, software is a key component. The best software distinguishes itself from lower level products by its realism and its details, resulting in an immersive simulation. This can only be obtained by rock-solid software architecture and optimal uptime performance. ProSim-AR offers certifiable software  to both the generic training market and the type specific markets.
ProSimA320
A new advanced level of realism and complexity to capture the essence of the computer-controlled aircraft.
ProSim737
Developed by using modern technology resulting in a highly realistic solution with excellent stability.
ProSim FMS Trainers
The FMS trainer is a tool that focusses primarily on the use of the FCU and MCDU in the operation of the A322.
About us
ProSim-AR was formed to offer improved software as the need to revise existing solutions within the flight simulation scene was identified. Established in 2011, we have advanced in the business with an experienced team, technological developments, increased productivity and efficiency. Our customer relationship is based on trust and confidence that forms brand loyalty.
More features are constantly added to our software, with new quality standards and products. ProSim-AR has achieved a high growth rate and is acknowledged as a market leader within flight simulation.
Subscribe to our newsletter
Subscribe and receive updates about our latest developments.