Interview with Paul Savage of AlphaTech
Recently, ProSim spoke with Paul Savage, Head of Training at AlphaTech based at Newtownards Airport, close to Belfast, Northern Ireland.
From a vivid memory of being a young boy visiting the cockpit on a family holiday, to obtaining his ATPL several years later, Paul is back on the ground operating AlphaTech from his aircraft hangar facility.
Today, AlphaTech are leaders in the Airbus A320 flight simulator training. Paul is passionate about training pilots for this aircraft type. ''When you get the opportunity to fly, it's just incredible, you can't put it into words.''
Paul is very much hands-on as an instructor for pilots who use his facility, but also gets involved with some of the 'behind the scenes' business activities, such as intaking pilots, writing course material and developing courses, as well as carrying out accredited training.
After a break from flying and after starting a family, Paul came across some flight simulator components for sale on the internet and immediately became quite inquisitive. Not knowing what would be involved, but to stay closer to home, Paul wanted to see how this could develop. ''I've always wanted to instruct and flight simulation seemed to be worthwhile investigating. The next thing you know, we had ordered an Airbus flight simulator.'' Together with his business partner, buying and fitting out an aircraft hangar seemed to be the perfect location to set-up their flight simulation training business.
When recognising the need for a facility to train pilots in Northern Ireland, AlphaTech was formed in 2016 and became the first and only Flight Simulator Training Provider for Airline Pilots operating an Airbus A320 Fixed Base Flight Simulator in Ireland, North and South. ''Our goal quickly became to offer a good device to train pilots.'' By this time, Paul had known about ProSim software and soon became a customer. ''We installed the software and were delighted with the quality. It was everything we expected what an Airbus should be. As far as the integration of the ProSim software into the simulator itself, the architecture is excellent, stand-alone and is totally in a field of its own.''
As a business, AlphaTech offer training support to both qualified and trainee pilots. The simulator has real Airbus Sidesticks, adjustable seats, airbus pilot tray tables, map reading lights, dual linked rudder pedals, dual linked EFBs with Jeppesen Charts, an instructor station with touch screen and two further observer seats. They also provide smoke in the cockpit simulation with breathing masks.
Aside from the core business, the Airbus A320 Flight Simulator is not an 'entertainment' device, but is used for Pilot Training, therefore, flying lessons offered to the public are guaranteed to be as real as it can get.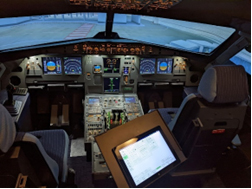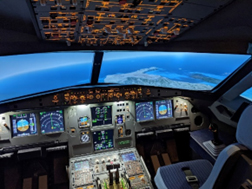 ''We have invested heavily in our Airbus A320 Training Simulator, which is fully owned by ourselves and meets FNPT II Standards. ProSim provides us with a full ECAM malfunction suite that can induce the same failures as that of a Full motion Airbus A320 Training Device.''
In addition, AlphaTech offer a successful training scheme called SimPilot, which is subscription based pilot training that allows experienced an inexperienced pilots to use their simulator on a monthly subscription to spread the costs over a year. This enables pilots to have access to the Airbus A320 Flight Simulator monthly to keep their skills up to date.
Moving forwards with pilot training, in January 2022, AlphaTech introduced an accredited Multi-Crew Cooperation Continuous Professional Development (MCC CPD) training course, allowing pilots to refine their flying skills for the emerging pilot recruitment market of the future. As well as learning the techniques of flying and operating the Airbus A320, this new course demonstrates the commitment to potential employers of the pilot to develop their skills to strive for professional improvement and development. 
Paul is planning to expand his business in the future after stabilising from the turbulent weather over the last 2 years, however, the seatbelt is firmly fastened for now. In the meantime, Paul and AlphaTech are doing their bit in tackling the Climate Crisis. For every hour flown in the simulator during 2022, a new tree is planted to create a forest.
Finally, we'd just like to say thanks to Paul and wish AlphaTech every success in the future.