Behind the scenes: Carlos Moran
Head of Training at ProSim-AR
Carlos Moran is the Head of Training at ProSim and is currently involved in positioning all ProSim products within training organisations and airlines for commercial and professional use.  Although this can be a worldwide job role, based in Costa Rica, Carlos represents ProSim within the Latin American Spanish speaking countries.
From his office, Carlos has the advantage of working in a more appropriate time zone for customers within this region, opposed to Europe or the other side of the world. "A customer can send an email at 9am and get a reply in the same day." In addition to sales and delivery, Carlos plays an advisory role in simulator training scenarios and works closely with regulatory affairs and the necessary requirements for placing ProSim products within a particular country.  
Alongside his interest in simulator flight training, it was always a dream for Carlos to become a pilot. In his childhood, growing up in Guatemala, Carlos was fascinated by the sights and sounds of the many air force jets at the annual display shows. "From an early age, these events were imprinted in my mind." Carlos was fortunate to join a particular school where the natural progression was to follow a military career. Following his education, Carlos had qualified as a maintenance engineer for the Air Force. However, he was more interested in the airplanes and everything associated with planes. Carlos was an avid flight simulator user on his home computer and was always interested in the computer systems and technology. This was a subject Carlos excelled at in his schooling. 
With high grades from school, at the age of 17, Carlos was awarded a scholarship to become an air force pilot. That year, he was learning to fly the Aermacchi SF260EU and later the high performance Pilatus Pc-7 military trainer. After becoming an accomplished pilot, Carlos switched to the jets. As a young boy at the annual air displays, the loudest and most exciting aircraft to see was the Cessna A-37B Dragonfly. His childhood dream was to fly this fast, noisy jet. Referring to his first solo flight, "It was an emotional experience, unbelievable. I was doing the things that I saw pilots doing at the air shows when I was a boy." Later in his military career, Carlos became a display pilot and hoped to inspire the young onlookers, as he was.
During his 8 year military service, Carlos flew many fixed wing aircraft, including the Northrop T-38 Talon, F-5 Tigershark and was fortunate to fly the F-16 Viper in the United States. 
Carlos had never planned to leave the air force, he was fully appreciative of his military career, however, an unexpected opportunity arose while on holiday with his family in Costa Rica. Carlos at this stage of his career was very interested in new technologies and systems that were coming into military aviation. In a conversation with family friends of whom were commercial airline pilots, it was suggested that Carlos should apply for a career in civil aviation as the wait for airline pilots in this region could take up to two years. Having the necessary contacts, Carlos sent an email thinking that they would never call him because of his military background in aviation. "I sent an email on Wednesday and I got a reply on Friday. They wanted me to start the next Monday as a Direct Entry Captain."
This was a new opportunity, though Carlos was concerned about the transition from flying in the military to civil aviation. On this new career path, Carlos joined the world of commercial aviation and was given the option to fly the Airbus and other airliners. However, he chose to fly the smallest aircraft possible to focus, not only on the flying, but becoming familiar with the environment of civil aviation. Taking into consideration the speed and manoeuvrability of an air force jet, in an airline, "I felt like I was falling out of the sky."
Carlos advanced into different aircraft types until becoming a Boeing 737 captain within the airlines, which was another childhood dream, and was also an airline simulator instructor, albeit at a relatively young age. As an instructor, Carlos became involved in other areas of aviation, which led to more challenges and opportunities. Subsequently, Carlos focussed on consulting for the airlines and regulatory agencies. "After flying at the speed of sound and flying for the airlines, I wanted another challenge."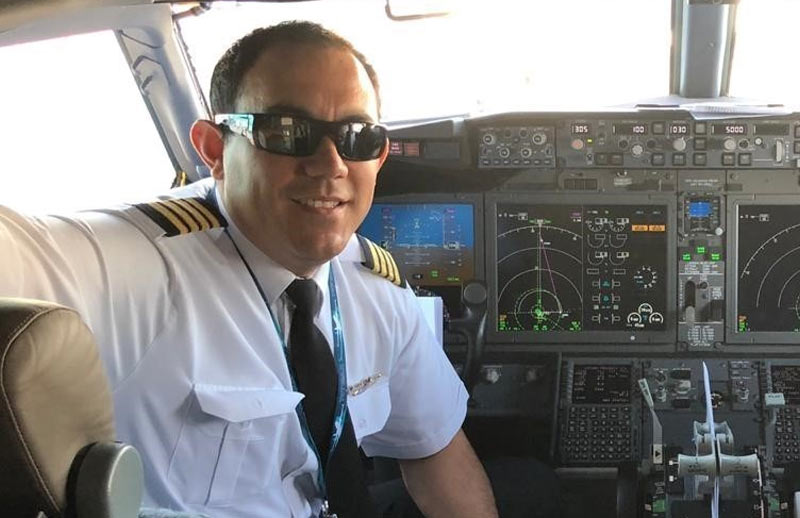 Carlos was involved in the entry into service programme and was one of the first pilots to fly the Boeing 737-9 Max. Ready for take-off from Panama City to San Francisco Intl.
Remaining in the industry, Carlos purchased ProSim software for his own personal simulator. Impressed with the product, Carlos contacted ProSim and spoke of the potential within the commercial market. This in turn led to supporting ProSim on how to position the products within the industry, considering regulations and frequently attending flight simulation events, interacting with customers. After building a positive relationship with the ProSim team, Carlos joined on a full-time basis. 
Looking ahead to the future, Carlos will continue to work on an advisory role and support the benefits of ProSim software, in addition to broadening the awareness of ProSim products within the Spanish speaking training centres and airlines. 
During his career, Carlos has driven a lot to the airport, but now he has more time, his preferred method of travel is by train or by boat, but in particular, by car. He enjoys going on road trips and taking in the scenery from land opposed to 35,000 feet (always with a set of tennis rackets in the trunk). 
"Being a professional pilot working for ProSim is an excellent opportunity to develop tools that will improve the future generation of aviators training and contribute to safer flight operations worldwide."